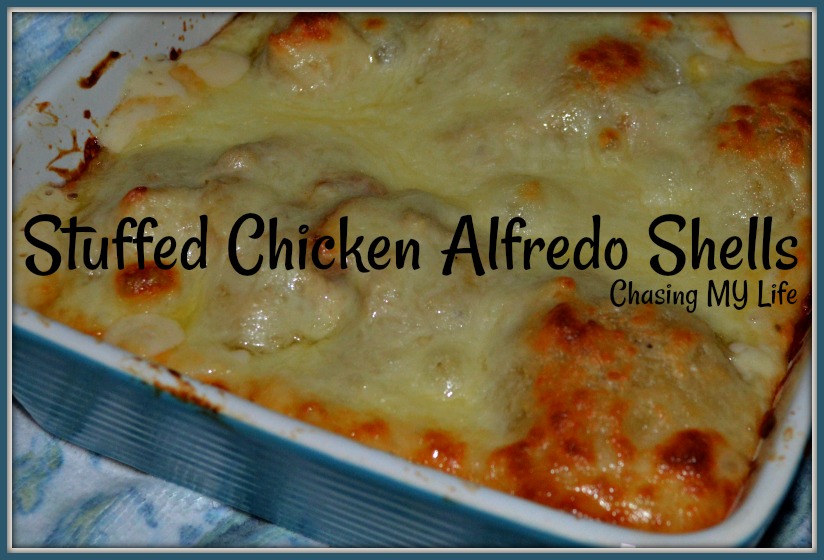 STUFFED CHICKEN ALFREDO SHELLS

20 whole Jumbo Pasta Shells, Cooked And Drained
2 Boneless, Skinless Chicken Breasts or 2 cups shredded rotisserie chicken
FRESH ground salt And pepper, to taste
Avocado Oil
3/4 cups ricotta cheese (whole milk, NOT low-fat))
3/4 cups SMALL CURD cottage cheese (whole milk, NOT low-fat)
3/4+ 1/4 cups grated Mozzarella cheese
2+ 1/4 cups grated Parmesan cheese
2 whole LARGE eggs, lightly beaten
1/4 cup minced FRESH parsley
2 tablespoons minced FRESH basil
4 tablespoons butter
2 tablespoons flour
2 cups whole milk
1 cup heavy cream
4 cloves garlic, minced

Preheat oven to 375°.
Season the chicken breasts on both sides with salt and pepper.
Heat a grill pan or iron skillet over medium heat, drizzle with avocado oil.
Cook the chicken on both sides until cooked through.
Remove and shred with two forks and allow to cool.
In a medium bowl, combine ricotta, cottage cheese, mozzarella, 1 cup of the Parmesan cheese, eggs, 2 tablespoons of the fresh parsley, salt, pepper, and chicken, stirring to combine. Add heavy cream as necessary 1 tablespoon at a time. Set aside.
In a large skillet over medium heat, melt butter and sprinkle with the flour. Whisk and cook until the roux turns golden brown.
Pour in the milk and cream, whisking constantly, and cooking for a few minutes, until thickened.
Add the garlic, the additional 1 cup Parmesan, salt, pepper, 1 tablespoon minced parsley, and minced basil and stirring until well blended.
Taste and adjust seasonings as needed. Set aside.
Add 1 cup sauce to the bottom of a 9 x 13 inch baking dish.
Using a spoon, fill each of the jumbo shells generously with the chicken/ricotta mixture.
Lay them face down in the pan, then pour the sauce all over the top.
Sprinkle with 1/4 cup mozzarella and 1/4 cup Parmesan cheeses.
Bake for 25 minutes, or until bubbly and the cheese is golden.