I'm really missing my favorite grocery store from Texas, but have found my new local grocer is having some beautiful produce. (
BTW
My favorite grocery store and my neighbor are ALL that I'm missing from Texas 😀 ) The pineapple in particular has been
PERFECT
and perpetually on sale.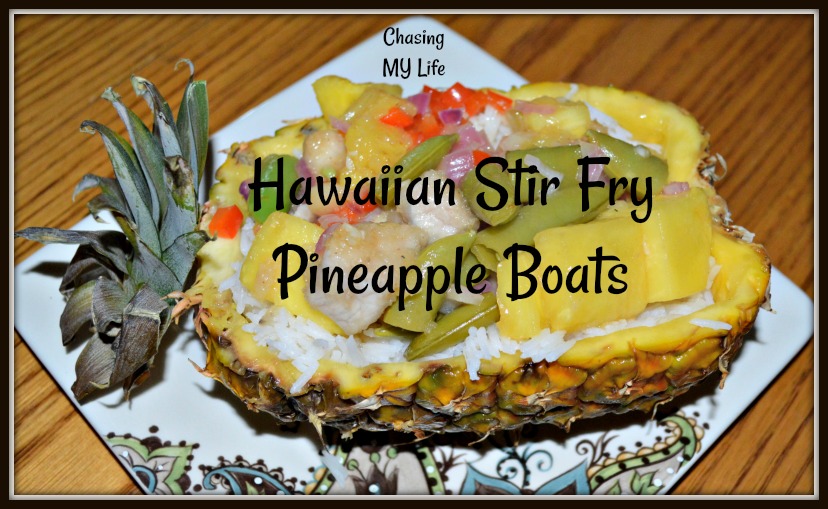 HAWAIIAN STIR FRY PINEAPPLE BOATS
– serves 2
1/2 pound pork tenderloin and center cut boneless pork chops, cut into bite sized pieces
1+ cup snap peas, cleaned and halved
2-3 cloves garlic, minced
1 teaspoon
FRESH
grated ginger
1/3 cup diced red pepper
1 small bunch green onions, thinly sliced keeping whites and greens separate
1
FRESH
pineapple, halved and prepared for boats
1/2 cup rice, prepared to package directions
6 ounce can of pineapple juice (I often use pineapple orange)
2 tablespoons rice wine vinegar
2 teaspoons cornstarch
2 tablespoons
PACKED
brown sugar
1 tablespoon dry sherry
2 tablespoons avocado oil
2 teaspoons sweet and spicy chili sauce (I use MAGGI's)
FRESH
ground sea salt, to taste
1/3 cup water
1 tablespoon butter
Halve pineapples and cut meat out leaving 1/2 inch all the way around. Cut pineapple into bite sized pieces.
Whisk together the pineapple juice, vinegar and cornstarch until smooth.
Add the brown sugar, sherry, chili sauce and FRESH ground salt.
In a large skillet heat avocado oil over medium-high heat.
Sear pork until browned and nearly cooked through, about 5 minutes.
Remove pork and allow to rest.
Wipe out pan and return to heat.
Add water and peas, cover and steam 2-3 minutes. DRAIN.
Return pan to heat and add butter.
Add ginger, garlic, onion whites and bell pepper, stirring until fragrant.
Add pineapple pieces and sauce, simmering a few minutes until thickened.
Fold in pork pieces.
Put a thin layer of rice into each pineapple boat.
Portion pork mixture into boats and top with scallion greens.
ENJOY!