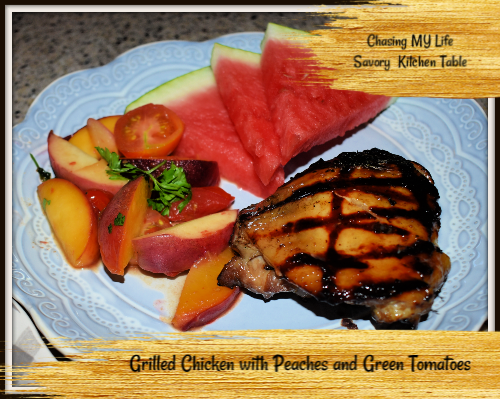 GRILLED CHICKEN with PEACHES & GREEN TOMATOES
1/2 cup Bragg's Liquid Aminos
1/4 cup packed brown sugar
1 tablespoon minced
FRESH
ginger
4-6 bone-in, skin-on chicken thighs
2 tablespoons avocado oil
2-3 green tomatoes, cut into wedges
2-3
FRESH
peaches, cut into wedges
1/2 red onion, sliced thin
2 tablespoons
FRESH
chopped flat leaf parsley
Juice of 1
LARGE
lemon
1 tablespoon
QUALITY
honey
FRESH
ground sea salt and black pepper
Combine liquid aminos, brown sugar, ginger and garlic in a large Ziploc bag.
Add chicken, seal bag and turn to coat chicken.
Refrigerate AT LEAST 2 hours. All day or overnight is best. Turn bag frequently.
Preheat oven to 400°.
In a LARGE cast iron skillet heat 1/2 tablespoon of oil over medium-high heat.
Add tomatoes and peaches to cook, turning once, until lightly browned.
Transfer to a serving bowl.
Whisk together the lemon juice, salt, honey and 1 tablespoon of avocado oil.
Fold in parsley.
Pour over tomatoes and peaches, gently turning to coat.
Add last 1/2 tablespoon of oil to skillet over medium heat.
Drain chicken of marinade.
Add to skillet skin side down, cooking 2-3 minutes until browned.
Turn chicken and transfer to oven for 20-25 minutes until cooked through.
Plate chicken and top with peach tomato mixture.
NOTE:
Grilling the chicken works well too, in fact it's my preferred method.