This recipe is a flavorful pan seared breaded chicken on a rich lemony, tangy butter sauce. Some call it French because of the wine and butter, some American and even more Italian according to
Wikipedia
. What we know for sure is that it is
FLAVORFUL
!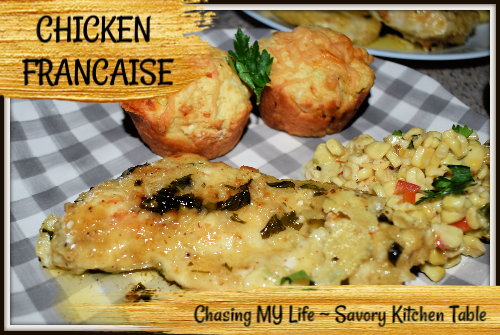 4 chicken breast steaks
1/3 cup WONDRA flour
2
LARGE
eggs
1 tablespoon heavy cream
FRESH
chopped Flat Leaf parsley
1/4 cup Parmesan cheese, finely grated
1 cup
QUALITY
white wine
1 cup chicken stock
2-3 cloves garlic, minced
4 tablespoons avocado oil
4 tablespoons butter
Juice of 1
LARGE
lemon
FRESH
ground sea salt and black pepper
Beat eggs in a large shallow dish.
Whisk in the heavy cream and FRESH ground salt and pepper.
Add half the chopped parsley to the egg mixture.
Add Parmesan cheese to egg mixture, mixing well. Set aside.
Heat avocado oil and half of the butter in a large skillet over medium-high heat.
Dip chicken breasts in the flour, shaking off any excess and then the egg wash and then into flour again.
Add chicken to the hot pan and cooking 3-4 minutes per side.
Transfer chicken to a hot plate and keep warm.
Increase the heat.
Add wine and chicken stock, stirring to blend.
Add the garlic and lemon juice, cooking several minutes until slightly reduced.
Reduce heat to low.
Add the remaining chopped parsley and butter, whisking until butter is melted.
Return the chicken to the sauce, turning to coat for 30 seconds or so.

Garnish with parsley sprigs.
NOTE
: Use medium sized flattened chicken breasts or thin chicken steaks.