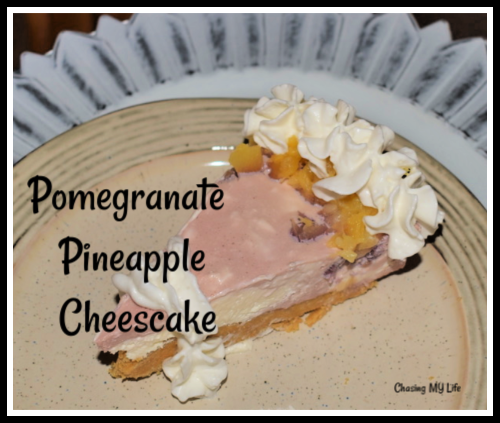 POMEGRANATE PINEAPPLE CHEESECAKE
FILLING
1 small can crushed pineapple drained
WELL
, reserve juice
1 (3-oz.) box pineapple Jell-O
3/4 cup pomegranate juice
1/4 cup reserved pineapple juice
2 cup whipped topping (thaw 5-10 minutes)
2- 8 ounce blocks cream cheese, softened
1/4 cup sour cream
1 cup powdered sugar
1 teaspoon
PURE
vanilla extract
Pinch of kosher salt
Place juices in a measuring cup and heat in microwave for 2 minutes.
In a large bowl, whisk together orange Jell-O and heated juices until Jell-O is completely dissolved.
Set aside to cool completely.
In another large bowl, beat cream cheese and sour cream until smooth, then add powdered sugar, vanilla, and salt.
Fold whipped topping into cream cheese mixture, then pour half of mixture into cooled Jell-O.
Whisk until smooth.
CRUST
24 whole Lemon Oreo cookies, crushed
6 tablespoons melted butter
Pinch of kosher salt
In a medium bowl, mix together Oreo crumbs, butter, and salt. Press into the bottom of an 8″ spring form pan and partially up the sides.
ASSEMBLY
Alternate dollops of cream cheese mixture, Jell-O mixture and crushed pineapple into the crust. You can also do this in layers if you are in a hurry.
With a butter knife, gently swirl the layers as desired.
Cover and refrigerate for AT LEAST 6 hours, or until firm.
GARNISH
(optional)
1 cup whipped topping
pineapple tidbits
When firm, pipe dollops of whipped topping around the outside of the cheesecake. Top each dollop with a clementine segment, garnish with orange zest, and serve.
NOTE:
The batter might feel kind of loose as you're adding it to the pan—don't worry! After a couple hours in the refrigerator the cheesecake mixture will be perfectly firm and creamy.
Also good as a mix of cherry and pineapple jellos as well as blueberry and lime. What flavor combination do you like? Use your imagination!