This is one of our favorite spring and summer salads for it's crunchy freshness and creamy homemade spicy Thousand Island dressing.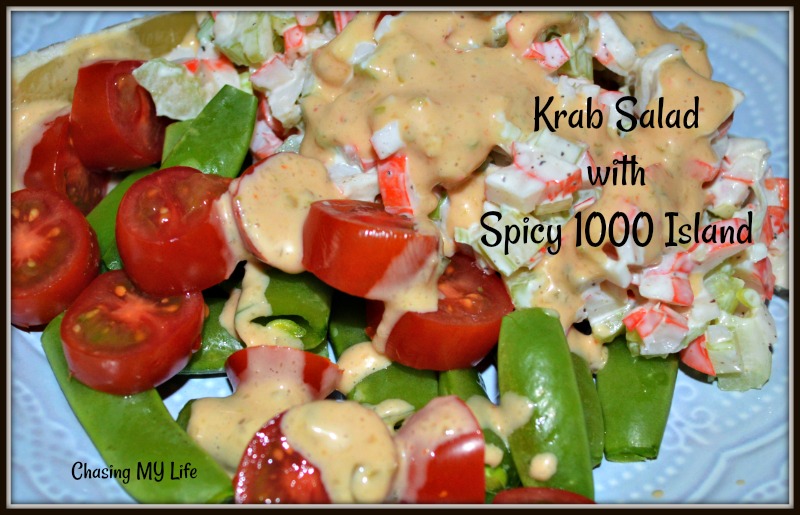 KRAB SALAD & HOMEMADE 1000 ISLAND DRESSING
KRAB SALAD
8 ounces Louis Kemp Crab, finely chopped
1 stalk celery, finely chopped
1/3 cup minced red onion
FRESH
ground salt and pepper
Duke's mayonnaise (about 1/4 cup)
Romaine lettuce
Roma tomatoes, sliced
Snap peas, halved
Wash lettuce, peas and tomatoes. Arrange on plate. Salt and pepper.
Mix crab, celery, onion, salt and pepper together until well blended using enough mayonnaise for desired consistency.
Place a large scoop of crab salad over the romaine mix.
Serve over chopped romaine lettuce, sliced tomatoes and snap peas.
Top with dressing.
1000 ISLAND DRESSING
1/2 cup mayonnaise
2-4 tablespoons jalapeno ketchup
1 tablespoon white balsamic vinegar
2 teaspoons sugar
1-2 tablespoons sweet pickle relish
1 heaping tablespoon minced red onion
1 teaspoon Worcestershire sauce
FRESH
ground salt and pepper, to taste
In a mini blender blend all ingredients to desired consistency.