Between the weather and the isolation of the sheltering in place, we were craving some comfort food last week on a cold, rainy, windy day so I decided to make chili and cornbread. I went in search of a new beanless recipe and found this! Personally, I'm wimpier than they are and have made it MUCH milder, but we LOVED the results! I borrowed and altered, trading for what I had on hand from BUTTER-N-THYME who fantastically shared the recipe for their award winning Texas Red Chili. Any good Texan knows there are NO beans in chili! 😀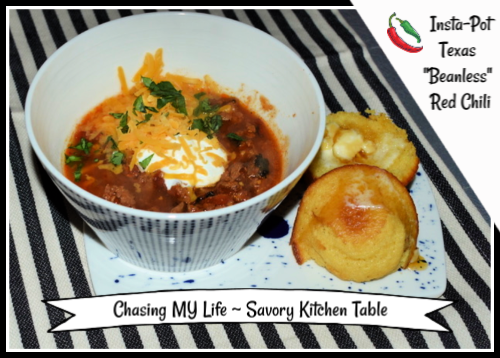 INSTA-POT AWARD WINNING TEXAS BEANLESS RED CHILI
serves 6 and only 45 minutes total time
2 poblano peppers, diced
2 1 Serrano Peppers, diced
1 Fresno chile
1 Habanero Pepper
2 Thai Chiles
1 large Jalapeno Pepper
1 Anaheim pepper, diced
1 large red bell pepper, diced
1 Guajillo or Mexico Dried Pepper
1 Dried Ancho Chile, crushed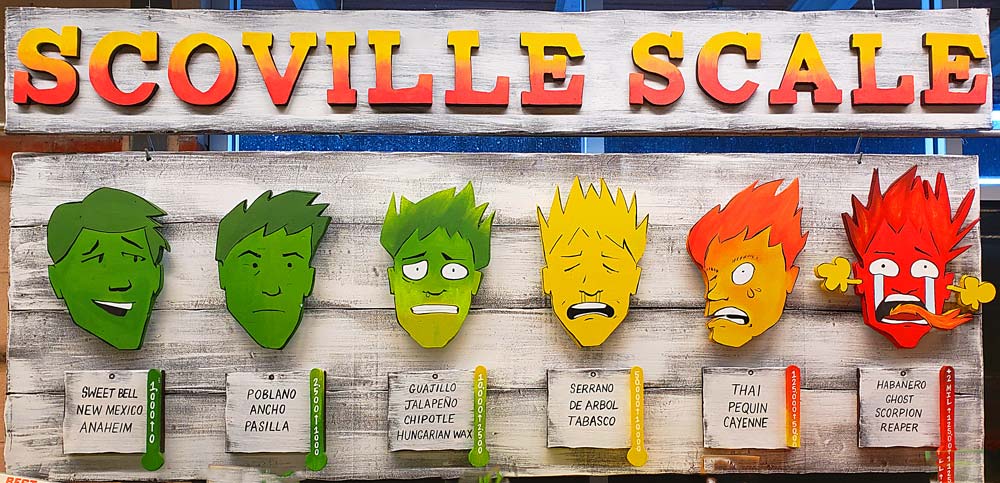 The level of HEAT will be controlled by how you handle the fresh chile peppers. I ALWAYS remove the seeds AND the ribs most of the time. YOUR 3

HEAT

Options are:
Low/Medium Heat – remove the seeds and the ribs
Medium – only remove the seeds
HOT – Only remove the stem from the chili pepper
CREATING YOUR BASE
1 tablespoon San Antonio Chili Powder
1 Large Vidalia Onion, chopped – reserve 1 tablespoon
6 cloves garlic, minced
2+ cups Beef stock
1.5 tablespoon Chipotle Chili Powder
1 tablespoon Ancho Chili Powder
1.5 tablespoon New Mexico Chili Powder
2 tablespoons Ancho chili powder
2 tablespoons smoked paprika
Using food processor pulse the garlic and onions several times until you have a finely diced mixture.
Add peppers, pulsing again to your desired consistency.
Add dried pepper, but cover with a dish towel to prevent any mess.
Reserve several tablespoons for garnish.
SEASONINGS
1 tablespoon granulated garlic
1 tablespoon granulated onion
1 tablespoon FRESH Ground black pepper
1 tablespoon + 1/2 teaspoon ground cumin
2 tablespoons dried oregano
Shaved Mexican chocolate – amount of your liking – OPTIONAL
6 ounces Shiner Bock beer – OPTIONAL
MEAT MIXTURE
1 pound cubed chunks of quality beef (I used chuck roast)
FRESH
ground kosher salt
1/2 pound ground pork
2+ tablespoons of avocado oil
ASSEMBLY
Turn the Instant Pot Saute feature on.

Sprinkle kosher salt all over the beef and rub into meat.

Add 2 tablespoons avocado oil to insta-pot and allow to heat up.

Add beef chunks to insta-pot.

Sear the beef then remove from Instant Pot and reserve in a bowl.

Clean out the Instant Pot pot.

While still on saute, add the BASE to the pot and cook.

Add the seared beef and ground pork to the pot with the cooked BASE, stirring to coat.

Cook for around 5 minutes or you can see that the BASE has tightened up/thickened UP.

Add the dry seasonings, spices and chocolate if using.

Add the beef stock and beer if using.

Stir everything together and cook for 3 minutes.

Place the Instant Pot cover on. Make sure the plastic circle ring/gasket is installed on the cover.

Turn to exhaust value to sealing.

Press the Pressure Cook button and set the timer for 30 minutes. Make sure the Heat setting is set to "Normal" and the pressure setting is set to "High Pressure".

After 30 minutes
 do a quick release until the small metal PIN drops the pressure has left the Instant Pot.

Garnish and Enjoy!