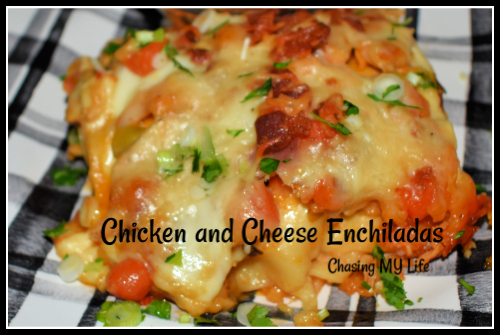 CHICKEN & CHEESE ENCHILADAS
4 cups rotisserie chicken pieces
1/3 cup sour cream
2 + 1 tablespoons finely chopped cilantro
1 small shallot, finely chopped
FRESH
ground sea salt and black pepper, to taste
8-10 small flour tortillas
3 cups shredded Monterey Jack and Cheddar cheese mix
Enchilada Sauce (see recipe below)
Preheat oven to 350°.
Spray 13×9 baking dish with non-stick cooking spray.
Ladle 3/4 cup of enchilada sauce into the bottom of the baking dish and spread evenly. Se aside.
In a large mixing bowl combine the chicken and 1/2 cup enchilada sauce, tossing to coat well.
Add the sour cream, 2 tablespoons cilantro, shallot, salt and pepper, mixing well. Set aside.
Warm and soften the tortillas slightly.
Add a spoonful of the chicken mixture and 2 tablespoons of the cheese to each tortilla rolling and placing seam side down in the baking dish.
Spoon the remaining sauce over the enchiladas.
Bake covered for 20-25 minutes.
Uncover and top with remaining cheese.
Bake 5-10 minutes more until cheese is melted.
Sprinkle with cilantro and Serve.
NOTE:
this recipe is just as good with corn tortillas if you prefer.
ENCHILADA SAUCE
yields 3 cups
3 tablespoons avocado oil
3 tablespoons WONDRA flour
2 tablespoons chili powder
1 teaspoon cumin
1/2 teaspoon unsweetened cocoa powder
3 cups chicken or beef stock
2 cloves garlic, minced
1/4 cup tomato paste
3 tablespoons packed brown sugar
1/4 teaspoon
FRESH
ground sea salt
Heat oil in sauce pan over medium-high heat.
Add flour, whisking to combine until golden.
Add chili powder, cumin and cocoa, blending well.
Add stock, stir well and bring to a SLOW boil.
Reduce to a simmer and add tomato paste, brown sugar and salt, blending well.
Simmer 10 -15 minutes, stirring often, until sauce thickens slightly.