This recipe is good year round, but tastes
especially
GREAT
during the fall when apples are at their prime.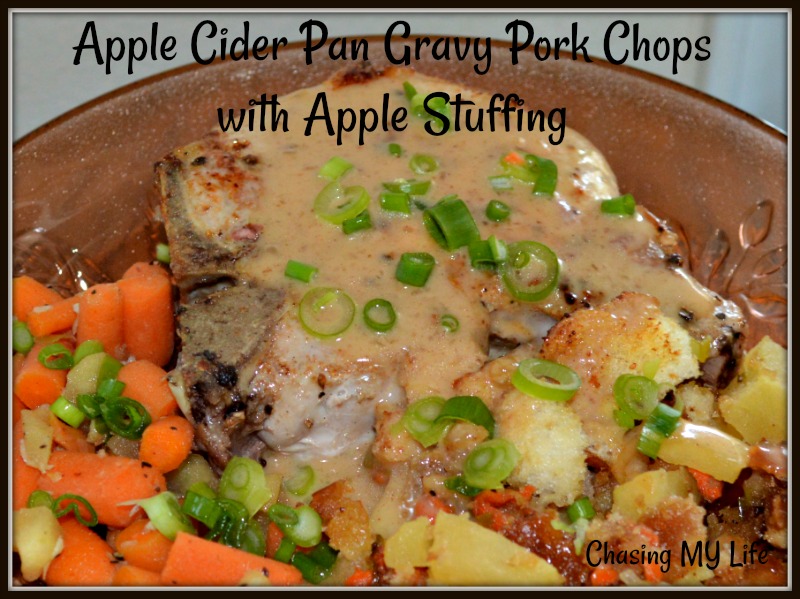 APPLE CIDER PAN GRAVY PORK CHOPS
2 tablespoons avocado oil
4 3/4 inch pork chops
2 cloves garlic, minced
1 teaspoon honey
2 tablespoons heavy cream
1/2 teaspoon apple pie spice
FRESH
ground sea salt and black pepper, to taste
3-4 sprigs
FRESH
thyme
1 cup apple cider
1 tablespoon + 1 teaspoon cornstarch
2 tablespoons water
thin sliced apples, for garnish
SEE NOTE
Generously sprinkle pork chops with salt and pepper.
Heat avocado oil in large skillet over medium heat.
Sear pork chops on both sides.
In a small bowl whisk together the honey and apple pie spice.
Add in garlic and apple cider until well blended.
Pour over pork chops.
Reduce heat to medium low, cover and simmer 5 minutes.
Remove pork chops to a plate, tent and let stand 5 minutes.
Whisk together the cornstarch and water.
Add to pan gravy and whisk until well blended.
Add heavy cream and whisk to blend.
Increase heat and bring to a SLOW boil until desired consistency is reached.
Serve pork chops with apple stuffing, your favorite vegetable and top with pan gravy.
NOTE
:
You can serve with thin sliced apple slices or you can use a little butter and apple pie spice to saute the apple slices for a sweet treat.
Many times I prefer to sear the pork chops for 3 minutes on each side over high heat and then place them into a 400° oven for 6-8 minutes to finish cooking while I prepare the veggies. I find that the pork chops stay moist and juicy this way.
APPLE STUFFING
2 honey crisp apples, peeled,, cored and chopped
3 Kaiser rolls, chopped small
1 large carrot, chopped
1 small bunch green onions, halved and sliced
2 cloves garlic, minced
2 + 2 tablespoons butter
1/2 cup apple cider
2 packets pork flavored top ramen seasoning packets
Preheat oven to 350°.
Heat 2 tablespoons of butter in skillet on medium high heat.
Add carrots and saute 2-3 minutes until they begin to soften.
Add green onions and garlic sauteing until fragrant.
Add apples, sauteing until beginning to soften.
Whisk together the pork seasoning packets into the apple cider.
Add the remaining butter and apple cider mixture to pan.
Fold in bread pieces, stirring to coat.
Cook until liquid is completely absorbed.
Fold into a casserole and bake 15 minutes or so to heat completely through.