MANY

moons ago at a funky little bistro in Silver Lake California I used to order their dessert tamales. They were soft, silky and

TOTALLY

delectable full of pineapple and raisins. At the time I was entering county fairs with my homemade jams and eating these tamales with a spoonful of jam drizzled over top was just pure

HEAVEN

, at least to me 😀

I

CANNOT

remember anything else on the menu, I can't even remember the name of the bistro, but those tamales were worth the drive out of my way just to buy several to take home for later.
I've been working to recreate the recipe for years and I think I've come as close as I can!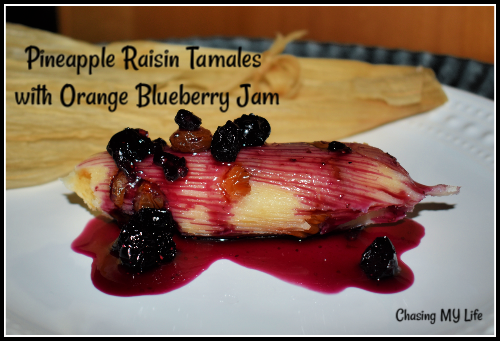 PINEAPPLE RAISIN TAMALES yields 2 dozen tamales
40 corn husks
4 cups corn masa flour
2 sticks salted butter, melted
2 large cans DOLE crushed pineapple, drained (reserve juice)
1 cup of reserved pineapple juice (make yourself a cocktail with the rest) 😀
1 cup sugar
2 teaspoon baking powder
2 cups golden raisins
2 dozen marbles
SOAK corn husks for 1 hour before beginning.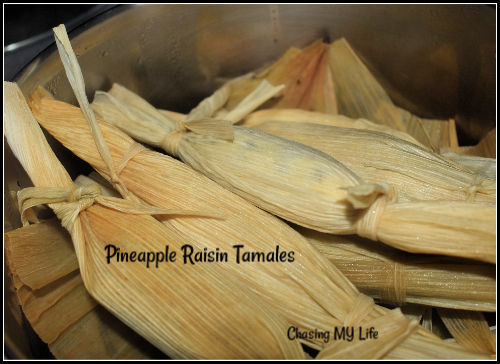 SET UP large dutch oven.
Invert a pie tin into bottom of dutch oven.
Arrange marbles around the pie tin edge.
Fill with water JUST to cover.
Arrange a second pie tin right side up on top.
Layer several corn husks over top pie tin. Turn flame to low heat and cover while you prepare tamales.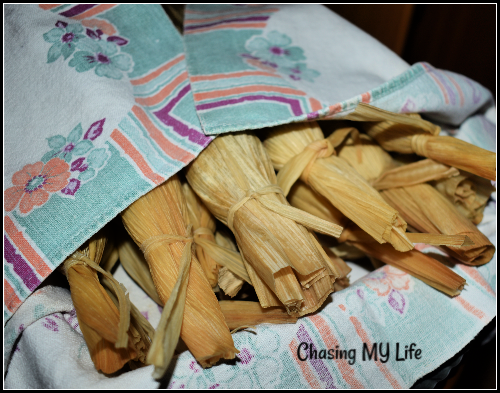 Combine masa, butter, juice, sugar and baking powder in a large mixing bowl until smooth.
Add pineapple and raisins, blending with gloved hands until well distributed.
Spoon about 1/2 cup of mixture in your corn husk into a 1×3 log shape.
Roll up tightly and tie ends with a piece of corn husk or string.
Place half of the tamales in the dutch oven and cover, steaming for 45 minutes.
Serve warm topped with blueberry sauce.
NOTE:
They reheat easily in the microwave.