One of the things I look for when we're antiquing is old recipe boxes. Not just any old recipe boxes, but old recipe boxes
FULL
of handwritten recipes. This recipe came from one of those boxes. I have no idea who owned the box, just that
MANY
of their recipe's were in the same handwriting and referenced Mrs. Gibson who must have been an excellent cook based on the recipes I've tried so far! This recipe has the added bonus of being a no bake recipe.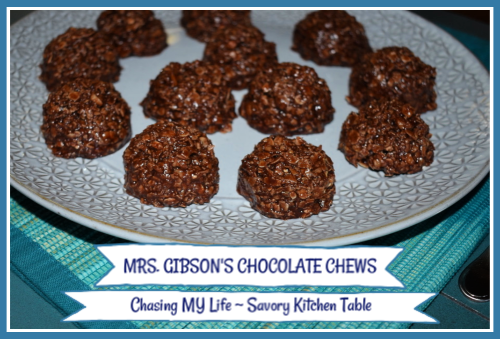 MRS. GIBSON'S CHOCOLATE CHEWS
yields 24 cookies
1/2 cup (whole)* milk
2
1
cup sugar
1 stick (1/2 cup – 8 tablespoons) butter
6 tablespoons unsweetened cocoa
1 teaspoon
PURE
* vanilla extract
3 1/4 cups quick oatmeal
1/2 cup
FINELY
chopped walnuts
In a large saucepan melt the butter.
Whisk in the milk and vanilla.
Stir in the sugar and cocoa until dissolved and bring to a SLOW boil.
Remove from heat and let cool 2 minutes.
In a large bowl sift together the oatmeal and nuts.
Pour the cocoa mixture over the oatmeal and nuts.
Use 2 spatulas (see note) to mix it all together until well coated. (see notes)
With your hands (see note) form into balls and cool on wax paper. (see notes)
NOTE:
Based on the age of the recipe card and style of writing I decided whole milk and PURE vanilla extract were a MUST for the texture and flavor of this recipe to be best.
I spray the spatulas with non-stick cooking spray to keep the mixture from sticking. I use food grade rubber gloves also sprayed with non-stick cooking spray to form the balls with. BUT, the best thing I finally started doing was using a cookie scoop sprayed with non stick spray to make the cookies more even.