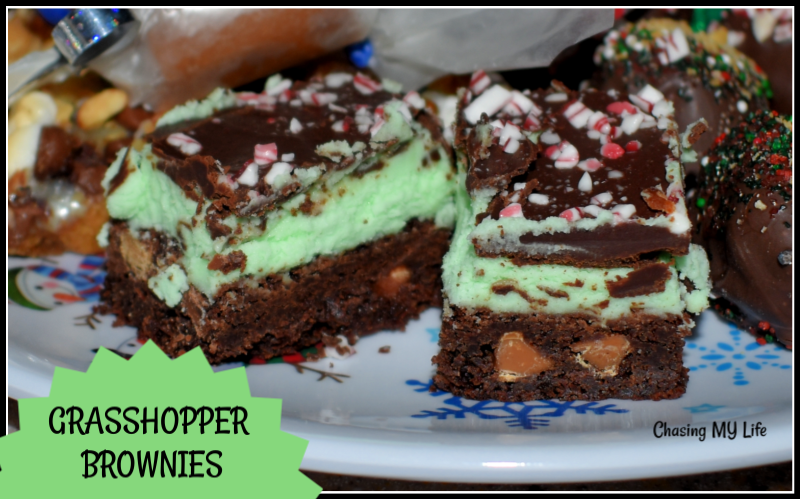 GRASSHOPPER BROWNIES
11 ounce package dark chocolate pieces
1/2 cup butter
3 ounces unsweetened chocolate, chopped
1 cup sugar
2 eggs
1 teaspoon vanilla
2/3 cup all-purpose flour
1/4 teaspoon baking soda
1/8 teaspoon salt
Creme-de-Menthe Filling (BELOW)
Dark Chocolate Ganache (BELOW)
In a medium saucepan, melt and stir 4 ounces (3/4 cup) of the dark chocolate pieces, butter, and the unsweetened chocolate over low heat.
Remove from heat; cool.
Preheat oven to 350°.
Line a 13x9x2-inch baking pan with foil, extending the foil over the edges of the pan. Grease foil; set aside.
Stir sugar into the cooled chocolate mixture in saucepan.
Add the eggs, one at a time, beating with a wooden spoon

JUST

until combined.
Stir in vanilla.
In a small bowl, stir together the flour, baking soda, and salt.
Add flour mixture to chocolate mixture, stirring just until combined.
Stir in the remaining 7 ounces (1-1/2 cups) dark chocolate pieces. Spread batter evenly in the prepared pan.
Bake in the preheated oven for 30 minutes. Cool in pan on a wire rack.
Spread Creme-de-Menthe Filling over cooled brownies.
Place uncut brownies in the refrigerator while preparing the Dark Chocolate Ganache.
Spread slightly cooled Dark Chocolate Ganache over Creme de Menthe Filling, spreading to the edges with a spatula.
Cover and chill about 1 hour or until set. Using the edges of the foil, lift the uncut brownies out of the pan. Cut into bars.
Place brownies in a single layer in an airtight container; cover. Store in the refrigerator for up to 3 days or freeze for up to 3 months.
CREME-DE-MENTHE FILLING
3 ounce package cream cheese, softened
1/2 cup butter, softened
3 cups powdered sugar
3 tablespoons

GREEN

creme de menthe
Milk (optional)
In a large bowl, combine cream cheese and butter.
Beat on medium speed with an electric mixer for 30 seconds.
Gradually beat in 1 cup of the powdered sugar.
Beat in creme-de-menthe.
Gradually beat in remaining powdered sugar. If necessary beat in 1 tablespoon of additional milk to make the filling slightly thicker than a frosting
CHOCOLATE GANACHE
1/2 cup whipping cream
1 11 ounce package dark chocolate pieces
In a medium saucepan, bring whipping cream

JUST

to boiling over medium-high heat.
Remove from heat.
Add dark chocolate pieces (do not stir).
Let stand for 5 minutes. Stir until smooth.
Cool for 15 minutes.
Pour over brownies and

QUICKLY

spread evenly.
NOTE:

You can substitute 2 tablespoons milk, 1/2 teaspoon mint extract, and several drops of green food coloring for the GREEN Creme-de-menthe.