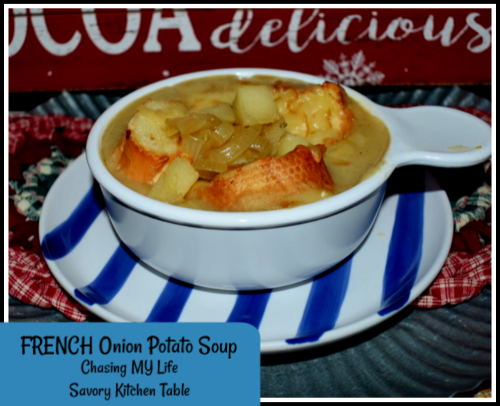 FRENCH Onion Potato Soup
serves 2
3 tablespoons butter, divided 1 + 2
1 small Vidalia onion, halved root to tip and sliced thin
2 sprigs
FRESH
thyme, minced
FRESH
ground sea salt and black pepper, to taste
2 cloves garlic, minced
1/4 cup white wine
1 large russet potato, peeled and diced small
2 cups beef broth
1/4 cup heavy cream
4 slices baguette, buttered
1 cup grated gruy'ere cheese
Melt 1 tablespoon of the butter in saucepan.
Add onions, thyme, salt and pepper. Cook, stirring occasionally until onions are tender and light golden brown, 10-15 minutes.
Add garlic, cooking a minute or two until fragrant.
Add wine and cook until almost evaporated.
Stir in potatoes and broth.
Season to taste.
Cook, stirring occasionally until potatoes are fork tender, 10-15 minutes.
Using an immersion blender puree the soup.
Stir in the heavy cream and remaining butter until melted and well blended.
Preheat broiler.
Pour soup into oven proof boils.
Top with baguette slices.
Sprinkle with grated cheese.
Broil until cheese is bubbly and starting to brown, 2-3 minutes.