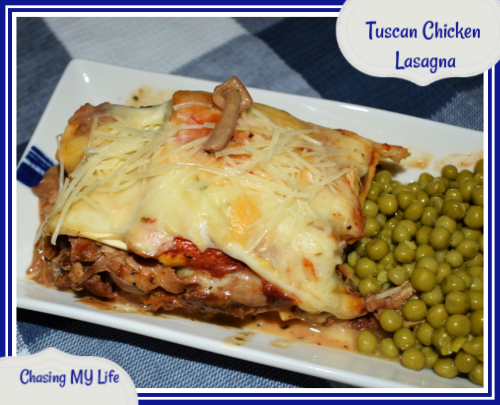 INSTA POT TUSCAN CHICKEN LASAGNA
(use leftovers from TUSCAN CHICKEN RECIPE) adapted from
AMY & JACKY
8 oven-ready lasagna noodles
2 1/2 – 3 cups Tuscan chicken, shredded
2 cups shredded Mozzarella cheese
4 green onions, sliced thin
8 ounces thinly sliced mushrooms
¼ cup
FRESHLY & FINELY
grated Parmesan cheese
RICOTTA CHEESE MIXTURE
¾ cup Ricotta cheese
1 large egg
1 teaspoon Italian seasoning
FRESH
ground sea salt and black pepper
Shred leftover Tuscan Chicken with two forks.
Mix the shredded chicken back into the leftover Tuscan Sauce.
In a mixing bowl, beat one large egg, then add in Ricotta cheese.
Season with Italian seasoning, salt and pepper, to taste.
Spray 7-inch springform pan with non-stick cooking spray.
Break the uncooked oven-ready lasagna noodles into smaller pieces, then layer them at bottom of the pan in a single layer.
Layer ⅓ portion of the Tuscan Chicken on the lasagna noodles.
Layer ⅓ of the Ricotta cheese mixture onto the chicken layer.
Layer ⅓ of the sliced onions and mushrooms on top of the ricotta cheese layer and top with ⅓ of the shredded mozzarella cheese on top. Repeat this layering cycle twice.
Add ¼ cup freshly grated Parmesan cheese on the very top.
Wrap the springform pan tightly with aluminum foil.
Pour 1 cup cold water, then place a trivet in Instant Pot.
Create a foil sling and place the springform pan in Instant Pot.
Close lid, then pressure cook at High Pressure for 26 minutes + 10 minutes Natural Release. After 10 minutes natural release, turn Venting Knob to Venting position to release the remaining pressure.
OPTIONAL NOTE:
If you want to brown the Parmesan cheese on top:
To brown the Parmesan cheese on top, preheat the oven to 425° while the Instant Pot is natural releasing.
Place the cooked Tuscan Chicken Lasagna in a 425° oven for 6-7 minutesuntil the cheese is browned on top.
For an easier release, use a paring knife to gently release the Lasagna from the springform pan. If you are using a pan with a removable bottom, you can place a mason jar at the bottom of the pan, then slide down the pan to take out the Lasagna.
Slice and serve immediately!