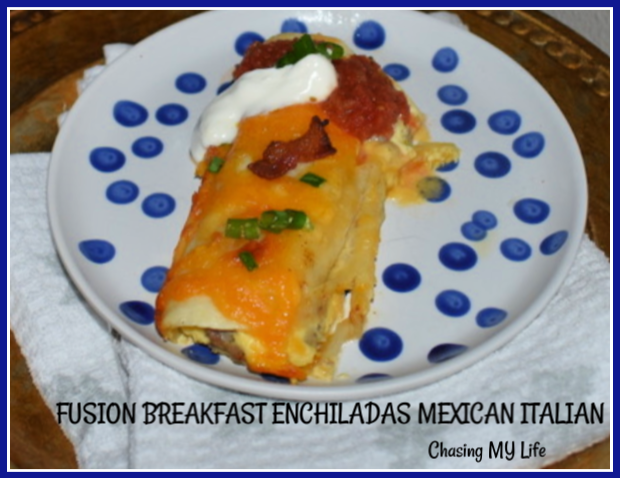 FUSION BREAKFAST ENCHILADAS MEXICAN-ITALIAN
adapted from
NORMAL COOKING
These are wonderfully flavorful – Italian on the inside and Mexican on the outside – fusion at its best!
1 pound sweet Italian sausage
3 green onions, halved and sliced thin
2 ounces sun dried tomatoes
1 cup shredded Mozzarella cheese
1 cup shredded cheddar cheese
8 (8 inch) flour tortillas
6
LARGE
eggs
1 tablespoon WONDRA flour
2 cups half-and-half
FRESH
ground sea salt and pepper
4 slices bacon, diced and cooked crisp
Salsa, for serving
Sour cream, for serving
Spray 9×13 baking dish with non-stick cooking spray.
In a skillet over medium high heat, brown sausage and then drain fat.
In a large bowl, stir together browned sausage, green onions, sun-dried tomatoes, Mozzarella cheese and half of the bacon pieces.
Place 1/8 of the mixture down the center of a tortilla.
Roll up and place seem side down in baking dish. Repeat until all tortillas are filled.
In another large bowl beat eggs, flour and salt.
Mix in half-and-half.
Pour over the tortillas in the pan. You can cover the dish overnight and place in the fridge OR bake immediately.
When ready to bake, preheat the oven to 350°.
Uncover dish and sprinkle remaining cheese over tortillas.
Sprinkle the rest of the bacon bits over cheese.
Cover with foil and bake for 35 minutes.
Uncover dish and bake 10 minutes longer or until set and cheese is melted.