CHICKEN FLAUTA RING
2 cups chicken, cooked, shredded **
1 small red onion, chopped small
1 large ripe tomato, chopped
2 cups shredded Monterey jack cheese, divided
2 cups shredded cheddar cheese, divided
Juice of 2 limes
2 tablespoons taco seasoning
18 flour tortillas fresh cilantro, chopped, for garnish
guacamole and avocado slices, for garnish
sour cream, for garnish
salsa, for garnish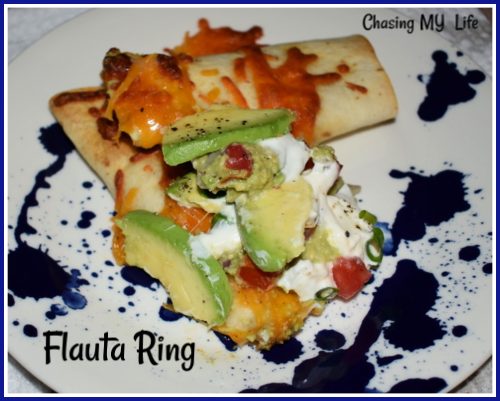 In a large bowl, combine the chicken pieces, onion, tomato, 1/2 cup Monterey Jack cheese, 1/2 cup cheddar cheese, the lime juice, and taco seasoning, mixing thoroughly.
Preheat the oven to 400˚.
Spray baking sheet with non-stick cooking spray.
Place one of the tortillas on a cutting board.
Scoop 2 tablespoons of the chicken mixture onto the bottom edge of the tortilla.
Roll up the tortilla tightly and cut in half crosswise.
Repeat with the rest of the tortillas and filling.
Arrange the flautas in a circle on the baking sheet.
Sprinkle with half of the remaining cheddar and Monterey Jack cheese.
Place a second layer of flautas on top of the first so they are overlapping.
Sprinkle with the rest of the cheese.
Place the rest of the flautas on top for a third layer.
Bake for 20-30 minutes until golden brown and crisp.
Place a spoonful of guacamole and sour cream in the center. Top with tomatoes and sprinkle with green onions and salsa.
Serve immediately and Enjoy!
NOTES
:
**ROTISSERIE chicken works great!
I use my pizza pan wrapped in foil to get them really crisp!